As part of the 2018 Annual Exhibition put on by the Fuse Factory Electronics and Digital Arts Lab Nikki and Matt Swift of Nicolettecinemgraphics have installed two video art installations in the Pearl Conard Art Gallery at The Ohio State University Mansfield.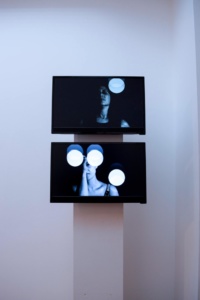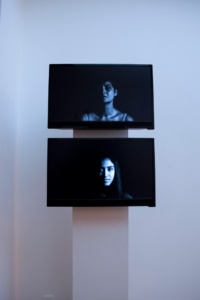 Unrecognized Dynamism
4 Display Looping Video Installation
2016
Contact for Pricing
Unrecognized Dynamism combines the ancient greek herm – a self supporting sculptural portrait and pillar – with Andy Warhol's "Screen Test" – a video portrait series – with a 21st century commentary on the representation of women artists and their creative process. The portraits themselves create a subjective gaze placing the viewer as the object being observed by these creative women. In reality Columbus, Ohio artists Michol Childress, Daidria Eckels, Jennifer Bender, and Ilya La Bozetta are, for the first time, watching documentary video of themselves creating art which was created moments before the portrait.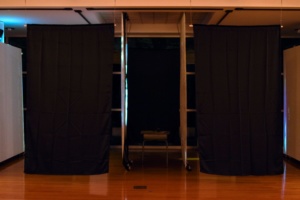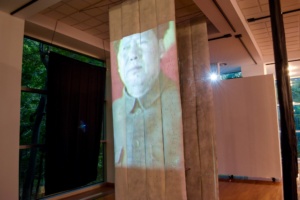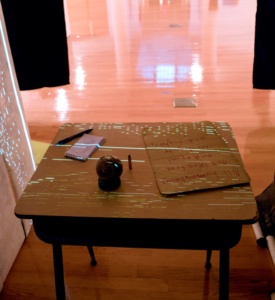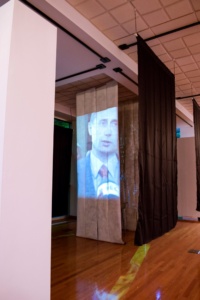 Player Piano
Dual Projector Mixed Media Installation
2018
Contact for Pricing
Player Piano is a dual projector dual screen mixed media installation. The piece brings together Alan Watts' and other theorists' concepts of past, present, and future with conversations about "Binary Thinking", hypotheses concerning a digital future's impact on nature, and the role of education's responsibility to make well rounded citizens and shepherds of the world. When entering the space the viewer encounters the present with rays of light shining through from two directions representing data from player piano reels – an early mechanical art form based on a binary system. The viewer is then presented with a binary choice of left or right. One choice places the spectator into the past showcasing what is on or visible – the cult of personality that dominates our recent past totalitarian dictatorial icons. The other choice places the spectator in the future showcasing what is off or not visible in three parts – nature, how our electronically driven initiatives might make that nature deteriorate quickly, and human frustration with the waist created by an electronically driven world.
You can also see a time-lapse of the installation of these two works on youtube.