In this blog post we will feature some Those Who Spring of Me film production stills from locations throughout Glen Echo in Columbus, Ohio. We have had to take a small break from production as we set up our next phase for indoor shots, classroom scenes, and much more. In the mean time enjoy the stills from scenes shot in September and October.
This still is from day 2 featuring Audrey Todd as Sybil coming home to find the house decorated with several art projects created by her son Will.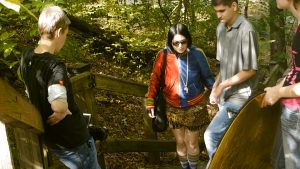 A documentary pick of Co-Director Nicolette Swift, Production Assistant Emily Gabrelcik and our two stars – PJ Gilmore, Kelsea Cherry – just before they walk into Glen Echo Ravine.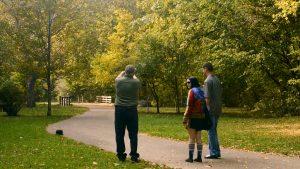 Another doc bpic featuring ore they walk into PJ and Kelsea as the receive hands on direction from Co-Director Matt Swift.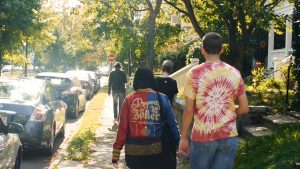 Here we see the whole crew walking back to base camp to have lunch
We hope you enjoy these pictures. We are working hard on the set of scenes and will have more photos to share soon.
Save